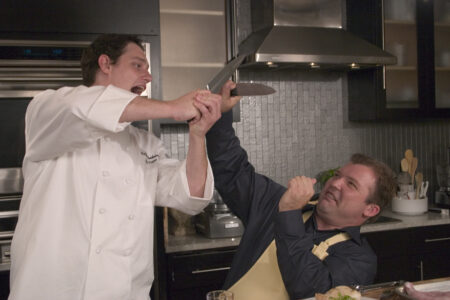 Every day on Carolina Cooking is unique, in both the challenges and in the people I meet. I never know what we are going to do. I never know what I am going to say. I never know if my friends at the fire department are going to be called.
At the end of every day on the job, no matter how badly I messed up their recipe, no matter how much guff I gave them, no matter how crazy things got, the chefs all shake my hand. They have a big smile on their face. They mean it when they say, they had a great time. Some of them don't want to leave. And some of them quickly bolt for the exit. With a squeal of tires they are racing back to their hometowns.
First and foremost, the show is about having fun. Cooking is fun. Eating is fun. If you were to come to a party at my home, we wouldn't be hanging out in the living room or out back (unless the grill is going), we would all be crammed in the kitchen and the dining room. And my kitchen is claustrophobic and sweltering. The fan vents all the smoke back into the room. Yet people stand in there – teasing and laughing and nibbling and stirring and making bad jokes and sipping a glass of Aris approved wine. They're just plain having fun. It is at those times, when I look around, that I say, life is good. It is those times that I remember fondly. Give me the choice of a wedding reception, a black tie New Year's Eve celebration, or a night in a steamy, smoke filled, cramped chaotic kitchen with rowdy friends and I will always pick the kitchen. What is Carolina Cooking? It IS that kitchen.
Thom Zelenka